Patents Presentation
Patents
A patent for an invention (something useful, unique and non-obvious) is the grant of a property right to the inventor, issued by a government or an authorized multi-national agency.
The patent rights include the right to exclude others
Unlike copyrights and trade secrets, independent creation is NOT a defense to a claim of infringement.
Patents are considered the strongest form of intellectual property
Patents = The Right to Exclude Others
A patent gives the owner the right to exclude others from making, using, offering for sale, selling, or importing the invention. Note, this is NOT the right to make the invention.
This right is only valid in the country that issued the patent.
The patent owner may authorize others to use his/her property right under certain conditions. These are called patent licenses.
The term of a new patent is usually 20 years from the filing date of the patent application.
Not enforceable until the application issues into a patent.
Generally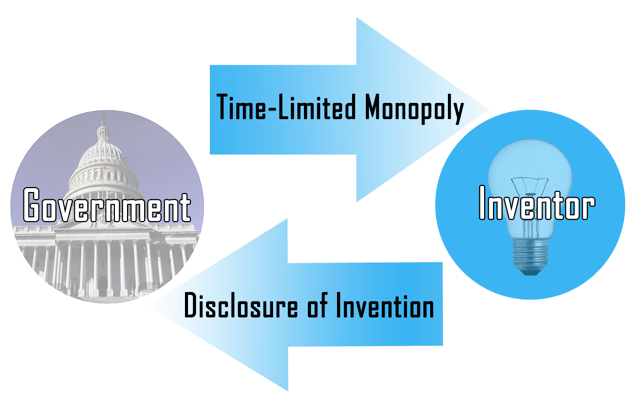 Patents – What Kinds Are There?
Utility Patents
– Protect functional use or functional structure
Other Types of Patents
– Design patents – how products "look", their ornamental design, apart from utilitarian/functional features – Plant patents – grafting or genetic alteration
Provisional "Patent" Application
– Not itself an enforceable patent, as such, but allows claim of "patent pending" – Not examined, expires in one year, only as good as technical disclosure, but may establish an early filing date
Non-Provisional Patent Application
Examined and granted as the standard enforceable 20 year patent
Patents – Why file a patent application?
→ Create a defensive portfolio and thereby create cross-license opportunities
→ Create design freedom for technical staff
→ Increase business valuation – US and abroad
→ Create obstacles for competitors
→ Create licensing assets for potential revenue
→ Create an offensive portfolio for patent enforcement
→ Open monopolies with patent leverage
→Obtain recognition in a technology area
→ Maintain ownership of employee designs
Patents – What ideas to file on?
Protect features which distinguish a product in the marketplace.
→ Patents should be sought for ideas which give products a technological or other competitive advantage over competitors.
Protect ideas which are easily identifiable.
→ It is important to have patents for inventions which, when embodied in a third party's product, can be readily identified or that can be easily determined through reverse engineering.
Protect ideas that have a relatively long product life (greater than 2 years).
→ A patent will take approximately 2-4 years to issue and is not enforceable until then.
Do not discount "business method" patents.
→ Amazon's "One-Click" patent. Obtained injunction against B&N and forced them to redesign their site.
→ Priceline.com obtained a patent on on-line reverse auctions. Suit filed against Microsoft in late 1999.
→ FantasySports.com obtained patents for on-line fantasy football games. Suit filed against Sportsline.com, Yahoo, ESPN, and others in late 1999.
Patents – Legal Requirements
⚆ Statutory – The invention must fit one of the legal categories of protectable inventions (e.g., a mechanical device, a machine, a compound, a composition of matter, a method/process, or software apparatus/system)
⚆ Novel and Useful- The invention must be useful and new or novel (e.g., no one else has, before certain prescribed dates, either patented, used, sold or otherwise publicly disclosed the invention which is sought to be patented)
⚆ Non-Obvious – The invention cannot be "obvious" to persons of ordinary skill in the relevant field of technology, when viewed in light of knowledge such persons would ordinarily have
⚆ Not Abandoned – The inventor has not somehow abandoned the invention
Patents – Business Criteria
LEGAL CRITERIA
→ NEW / NOVEL
→ NOT OBVIOUS
→ USEFUL
BUSINESS CRITERIA
→ Business Value > Something competitors likely to copy? > How significant if we could stop them?
→ Detectable > would we be able to detect whether a competitor is using the invention?
→ Policy > better to keep as trade secret?
→ Longevity > will the feature/concept become obsolete soon?
Patents – Time Element
PATENT RIGHTS FOR AN INVENTION ARE FORFEIT IF A PATENT APPLICATION IS NOT FILED ON THE INVENTION WITHIN ONE YEAR OF THE EARLIEST OF:
⚆ first printed publication or patent issued (anywhere in the world) in which the invention was described
⚆ first sale or offer for sale in the United States
⚆ first public use in the United States
Patents – Time Element
US
→ 12 month grace period
→ Not publicly disclosed/used more the 12 month before filing date
→ Not sold/offered for sale more that 12 month before filing date
→ Patent rights accrue to the 'first to invent'
NON-US
→ NO 12 month grace period
→ Not publicly disclosed before filing date of patent application
→ BUT sale/offer for sale does not necessarily = public disclosure
→ Patent rights accrue to the 'first to file'
Patents – Patent Application Process
⚆ Disclosure
⚆ Optional Search
⚆ Optional Provisional Application
⚆ Regular U.S. Non-Provisional National Application
⚆ Prosecution || Appeal
⚆ Issue/Maintenance Fees
Patents – Application Content
BACKGROUND
→ WHAT IS THE CURRENT STATE OF THE ART?
→ WHAT ARE PROBLEMS WITH THE CURRENT STATE OF THE ART?
DETAILED DESCRIPTION
→ ENGINEERING PORTION = DISCLOSURE
→ MUST MEET "DISCLOSURE" REQUIREMENTS
→ DESCRIBE DRAWINGS
CLAIMS
→ LEGAL PORTION = MONOPOLY
→ DEFINE "METES AND BOUNDS"/SCOPE OF PATENT
→ PATENT ATTORNEY'S VALUE-ADD
→ MUST MEET NOVELTY AND NON-OBVIOUSNESS CRITERIA
Patents – Claim Types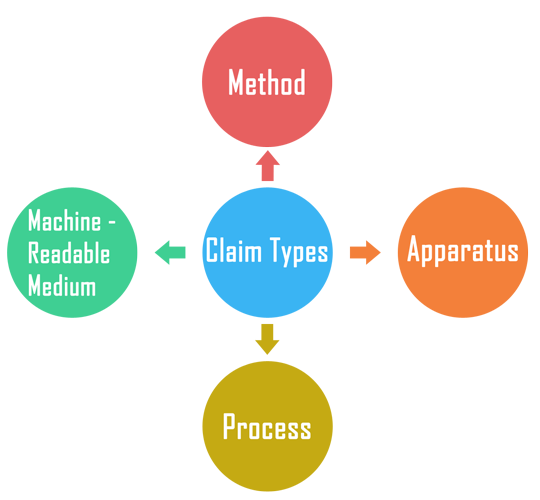 Patents – Use of Claims
⚆ Claims are used by the Patent Examiner to determine patentability (useful, novel, non-obvious)
⚆ Claims used by plaintiffs to determine infringement by defendants
⚆ Claims used by defendants to determine validity of plaintiff's patent
⚆ Claims used by potential licensors/licensees to determine need and cost of a patent license
Patents – Detailed Description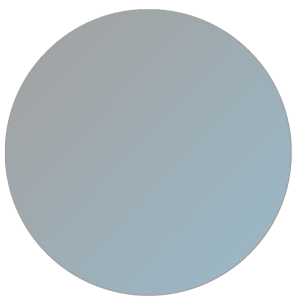 ⚆ Enable someone of ordinary skill in the art to make the invention * Without "undue experimentation"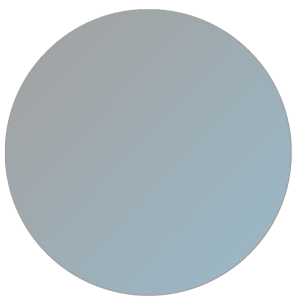 ⚆ If invention has more than one implementation, must disclose the best way * No "hiding the ball"
Patents – Technology to Cover
e.g., electronics and software
⚈ SYSTEMS (COMPUTER, COMMS., NETWORK)
⚈ CIRCUITS
⚈ DATABASE STRUCTURES
⚈ ARCHITECTURES (IC, SYSTEM, ETC.)
⚈ USER INTERFACES)
⚈ METHODS OF DOING BUSINESS (TRANSACTION PROCESSES)
Patents – Drawings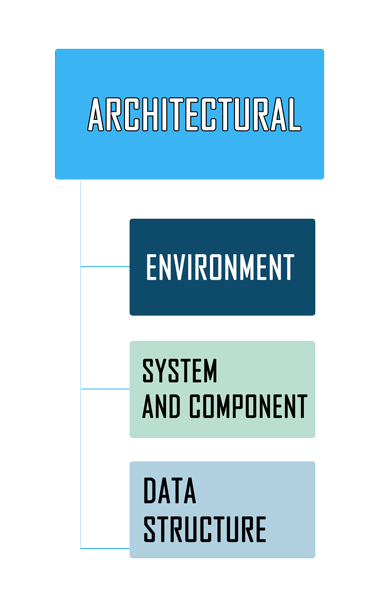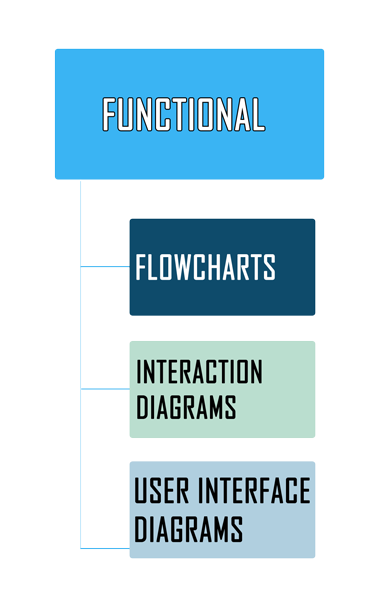 Networking Architecture Drawing Example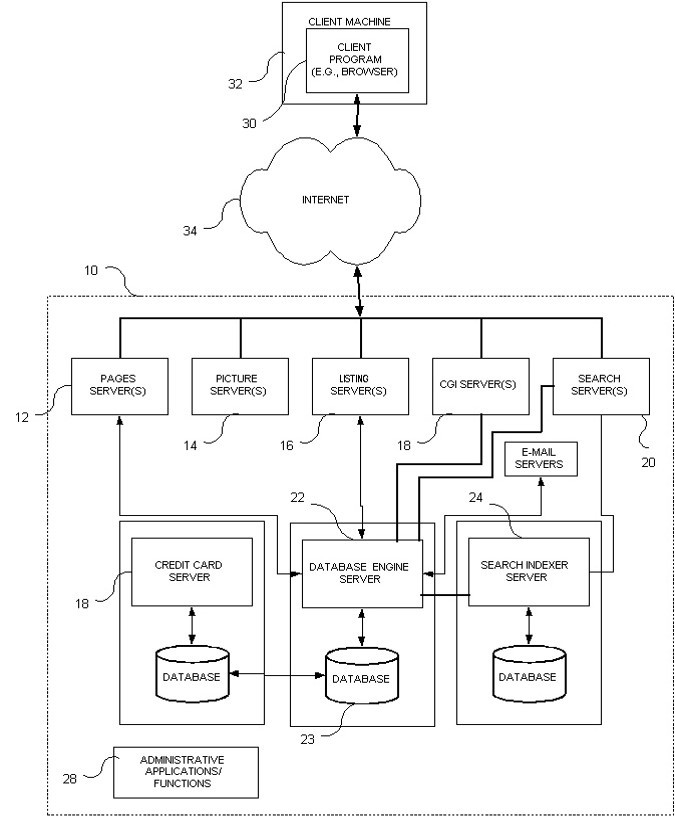 Procedure at the U.S. Patent & Trademark Office
⚈ Patent Application is received and assigned a filing date and serial number. The Patent Application is kept confidential in the Patent Office during pendency until publication at 18 months after filing.
⚈ Application is assigned to an Art Group and an Examiner.
⚈ Examination commences after a long delay after filing, sometimes up to two years.
⚈ Examiner performs a search and issues an Office Action, which is the Examiner's Report of his/her results of the examination of the patent application. The Examiner cites all prior art found that relates to the claimed invention. Typically, the Examiner rejects the claims the first time.
⚈ The applicant/patent attorney responds to the Office Action by making arguments asserting that the claims are patentable over the prior art and/or amending the claims if necessary to differentiate from the prior art.
⚈ Repeat Office Action / Response as necessary.
⚈ Application is allowed or finally rejected.
⚈ Patent issues if allowed – Appeal is possible if finally rejected.
Wright Brothers Patent
IU.S. Patent No. 821,393
Issued May 22, 1906
Claim 1. In a flying-machine, a normally flat aeroplane having lateral marginal portions capable of movement to different positions above or below the normal plane of the body of the aeroplane, such movement being about an axis transverse to the line of flight, whereby said lateral marginal portions may be moved to different angles relatively to the normal plane of the body of the aeroplane, so as to present to the atmosphere different angles of incidence, and means for so moving said lateral marginal portions substantially as described.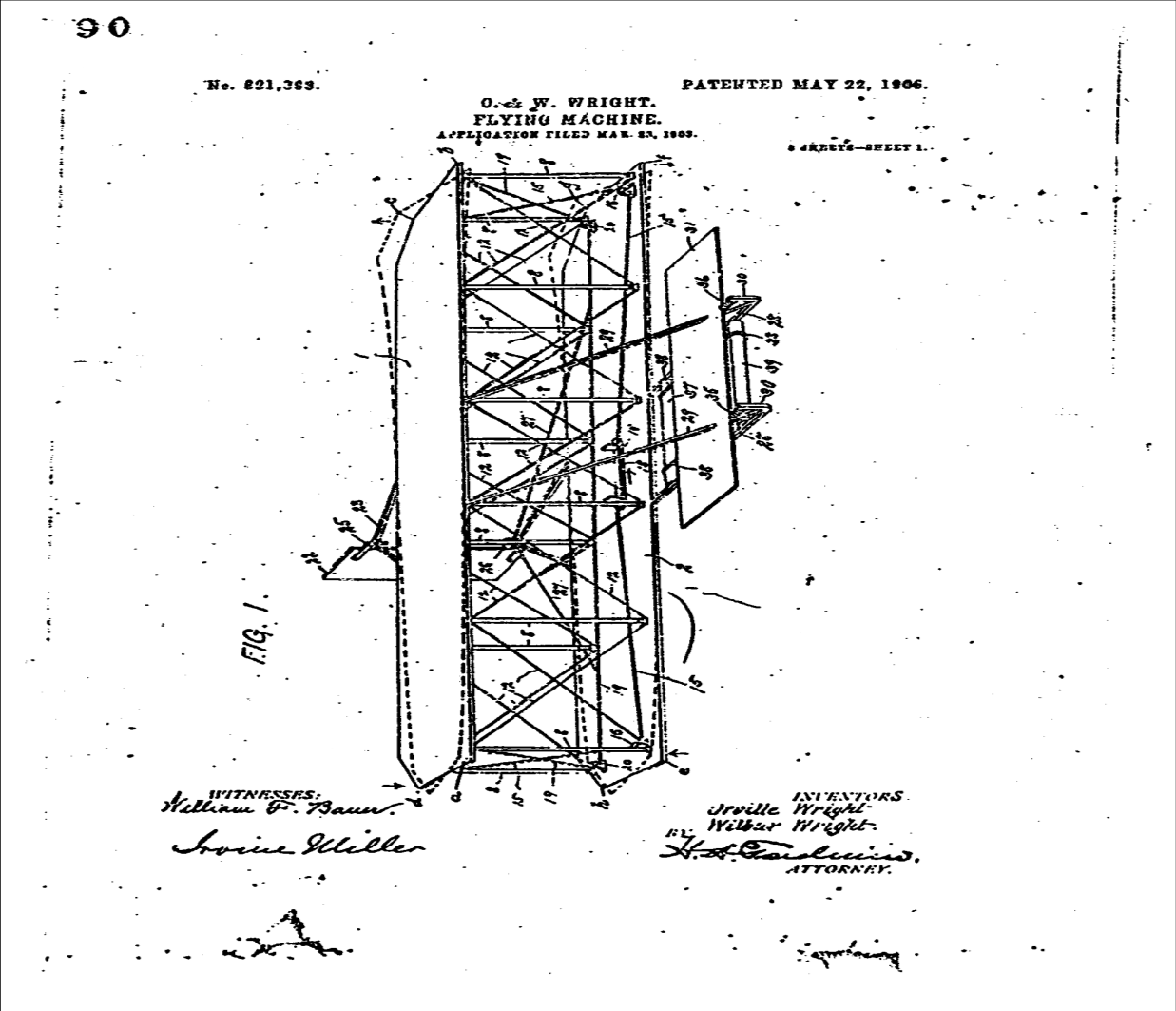 Amazon One-Click Patent
U.S. Patent No. 5,960,411
Issued Sep. 25, 1999
A method of placing an order for an item comprising: under control of a client system, displaying information identifying the item; and in response to only a single action being performed, sending a request to order the item along with an identifier of a purchaser of the item to a server system; under control of a single-action ordering component of the server system, receiving the request; retrieving additional information previously stored for the purchaser identified by the identifier in the received request; and generating an order to purchase the requested item for the purchaser identified by the identifier in the received request using the retrieved additional information; and fulfilling the generated order to complete purchase of the item whereby the item is ordered without using a shopping cart ordering model.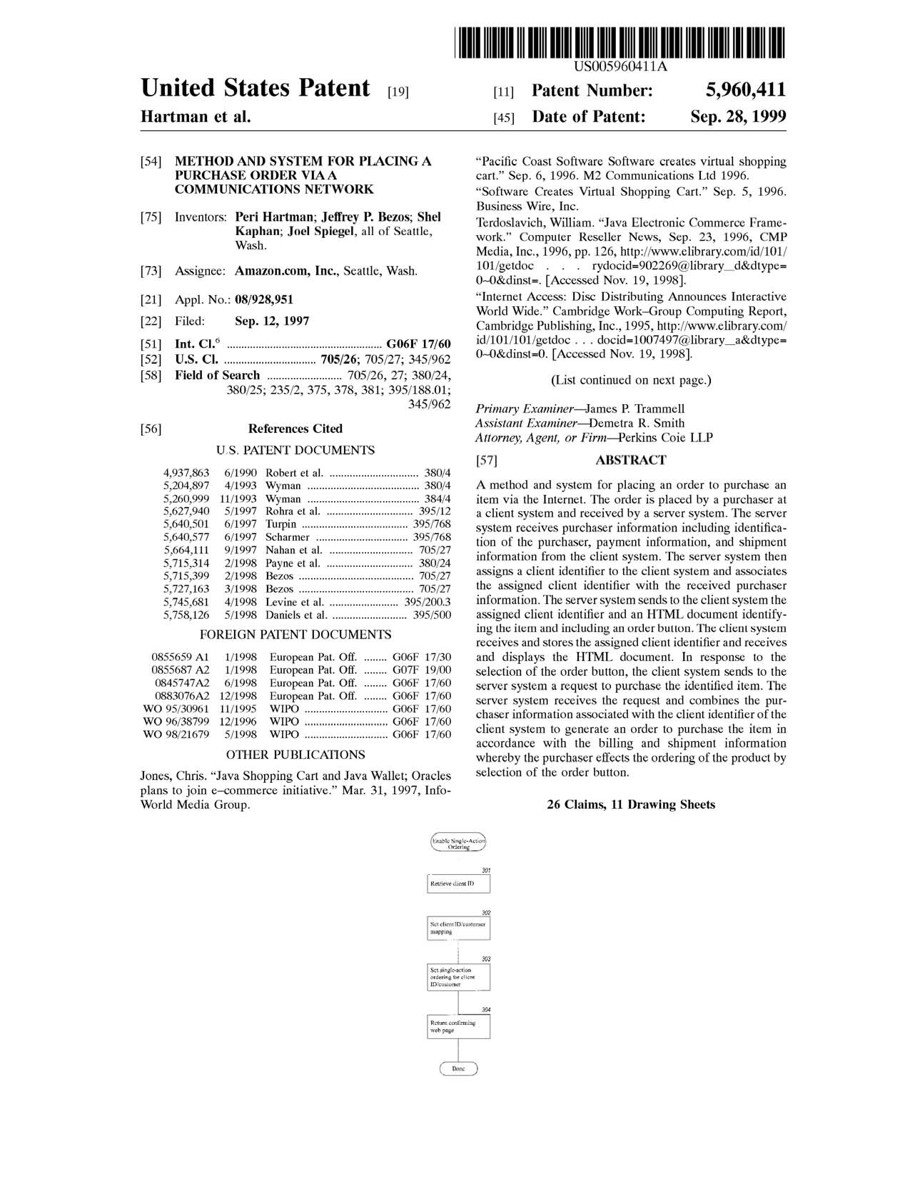 Managing Patents
⚈ Develop a Strategy for Patent Use
⚈ Inventory and Register Inventions and Key Technologies. Use Engineer notebooks and Invention Disclosure forms.
⚈ Provide Incentives to Inventors
⚈ Evaluate Competitors
⚈ Avoid Infringement
⚈ Integrate Product Development and Patent Strategy
⚈ Conduct internal patent awareness and training programs to encourage and enable submission of invention disclosures.
⚈ Become involved early in the product development cycle.
⚈ Some level of in-house patent prosecution capability may ultimately be desirable
⚈ Consider patent acquisition from related businesses or individual patent owners.
⚈ Use an annuity service to pay patent maintenance fees.
⚈ Closely monitor patent expenditures. It is not unusual to spend $50K – $70K over the life of a patent for U.S. and foreign prosecution and annuities.
Managing Foreign Patents
⚈ U.S. filing date can be used as foreign priority date by treaty.
⚈ Invention cannot have been made available to the public prior to the priority date.
⚈ Consider which foreign countries or regions may most likely make, use, or sell the invention
⚈ Countries requiring translation will be more expensive. Estimate $3k-$5k per English-speaking country, $8k – $12k per non-English-speaking country
⚈ In general, file 15% – 25% of the U.S. applications in appropriate foreign countries
⚈ Patent Cooperation Treaty (PCT) applications can be used to defer foreign national filings for up to 30 months after priority date. However, a PCT application is not an enforceable patent.
⚈ Use foreign associates to assist foreign prosecution and to pay foreign annuities.
⚈ Closely monitor foreign filing expenditures.