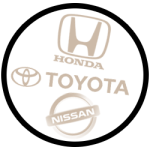 We recently took a look at the Big Three in American auto manufacturing. Today, we're increasing our coverage of innovation in vehicles by taking a look at the recent inventions from a trio of major automobile manufacturers based in Japan: Nissan Motor Company Ltd. of Yokohama, Honda Motor Co. of Tokyo, and the Toyota Motor Corporation of Toyota City.
Source: https://www.ipwatchdog.com/2014/11/13/japan-automakers-electric-hybrid-vehicles/id=52150/

Although the Japanese automobile industry includes a number of well-known players like Mazda and Mitsubishi, these three companies are the major players in this region. This has been a difficult year for auto manufacturers in terms of vehicle recalls, and recently reported air bag defects have instigated recalls from all three of today's profiled carmakers. As we'll see more below, fuel cell vehicles have been a development area of focus for these companies and Toyota is getting set to release its first hydrogen fuel cell vehicle in Japan this December, three months ahead of schedule.
The patent applications most recently published by the U.S. Patent and Trademark Office and assigned to these companies show that development of electric and hybrid electric vehicles are prominent among all three. Some of these patent applications describe novel applications of known energy generation and storage technologies, including air batteries and solar cells, to automobile environments. Self-driving cars manufactured by Toyota will benefit from a technology designed to improve the accuracy of determining a car's actual location on the road.
These three corporations each have strong patent portfolios which have increased in recent weeks and we took special notice of a couple of patents issued in the field of fuel cell technologies. Honda has earned the right to protect an indoor vehicle that drives in response to the tilting motion of a seated rider. We also feature two patents directed towards safety systems which are designed to provide warnings to drivers in response to potential road hazards.
Japan Auto Patent Applications: Electric Vehicles, Hybrid Vehicles and Lane Detection for Autonomous Driving
In terms of innovation, auto manufacturers located in Japan, South Korea and other Asian nations do excel in certain aspects. The recent 2013 Fuel Economy Trends report released by the U.S. Environmental Protection Agency shows that Asian automakers are manufacturing cars with the highest fuel efficiencies. Japanese-based Mazda produced the 2013 vehicle models with the highest fuel economy, averaging 28.1 miles per gallon (mpg) across all models. Japan-based Honda was second with a 27.4 mpg average. Nissan, also of Japan, was fourth with a 26.2 mpg average, but the company made the biggest strides in both fuel economy and tailpipe emissions from the previous year. All of these companies outpaced Ford, General Motors and Chrysler in terms of vehicle fuel economy.
Technologies for hybrid electric vehicles were a common theme which we saw expressed in patent applications from each of the Japanese auto manufacturers which we researched today. Higher efficiency internal combustion engines for hybrid vehicles are the focus of U.S. Patent Application No. 20140316631, filed under the title Drive Control Device for Hybrid Vehicle. The patent application, filed by Toyota, would protect a drive control device that includes a drive mode control portion for selectively placing an engine into a second drive mode in response to operating data collected from the engine. This technology is designed to address a shortcoming of hybrid vehicles wherein loud booming noises or vibrations can be experienced when frequencies from the engine and the power transmitting systems resonate within a certain range. Issues in clutch transitions experienced in hybrid vehicles are addressed within U.S. Patent Application No. 20140303822, which is titled Control Device for Hybrid Vehicle. Nissan filed this patent application in the hopes of protecting a hybrid vehicle control device that includes an engine start control section that can detect or predict the slip polarity of a second clutch transitioning to a negative slip. This system is capable of preventing a shock caused by hybrid electric vehicles when a momentary pulse torque is transmitted through the second clutch after starting the engine. Honda has it's own electric automobile technologies in play, as we saw expressed within U.S. Patent Application No. 20140309829, simply titled Electric Vehicle. Honda's innovation described here allows for the use of three or more driving modes, which could include an economy mode, a normal mode and a power mode. The patent application discloses an electric vehicle capable of performing an output limiting control process for limiting an electric motor's output to switch driving modes.
Another trio of patent applications filings which caught our eyes today feature the next generation of energy generation and storage technologies for vehicles. A vehicle battery capable of using oxygen from the air as a cathode active material is discussed within U.S. Patent Application No. 20140315106, filed under the title Air Battery. This Nissan patent application would protect an air battery with a cathode layer that includes both a cathode current collector and a liquid tight/gas permeable member. Although air batteries are a known technology, this particular invention aims to apply air battery technologies as a suitable power source for vehicles. Toyota is seeking to protect solar cell technologies with the filing of U.S. Patent Application No. 20140305504, which is titled Solar Cell. The invention involves a solar cell capable of forming a high voltage output; Toyota claims a solar cell comprised of a grooved semiconductor substrate that includes a power generation layer as well as multiple hole collecting layers and electron collecting layers. Certain embodiments of this invention are optimized to work on the curved surface on top of a vehicle, enabling the installation and practical use of solar cells in these situations. We were also intrigued by an invention designed to help owners of electric vehicles locate charging stations effectively, described within U.S. Patent Application No. 20140316939, which is titled System and Method for Selecting an Electric Vehicle Charging Station. Honda has filed this patent application, which claims a computer-implemented method for selecting a charging station wherein a charge request is sent by a vehicle to a remote processor and analyzing data about the charge request to determine a compatible charging station. This system is designed to provide owners of electric vehicles with reliable and current information about charging stations in their vicinity when their vehicle has reached a low level of electric charge.
We also wanted to take a moment to look at a patent application filed by Toyota in the field of self-driving, autonomous technologies for vehicles. We've been coming across a lot of these kinds of innovations from vehicle manufacturers lately, most recently in our Companies We Follow coverage of Caterpillar. U.S. Patent Application No. 20140303828, filed under the title Lane-Based Localization, would protect an autonomous driving system that utilizes a series of sensors installed on a vehicle which collect road surface data and using that data to generate detected lanes and compare those to expected lanes. This innovation is meant to improve the accuracy of calculating the precise physical location of a vehicle to support autonomous navigation. This patent application is assigned to Toyota subsidiary Toyota Motor Engineering & Manufacturing North America, Inc., which is located in Erlanger, KY.
Issued Patents of Note: From Tiltable Riding Vehicles to Collision Warning Systems
Each of the Asian automakers which we're profiling today are major players in the world of intellectual property, certainly in terms of U.S. patent grants earned by these entities. In 2013, Toyota received 1,355 patents from the USPTO, trailing General Motors but still good enough for a 22nd-overall ranking worldwide in terms of 2013 patent grant totals. Honda was 31st, taking in 1,070 U.S. patents during that year. Nissan's 263 patents in that year may have been much lower than these other Japanese auto giants, but that company still placed at 129th in the 2013 patent rankings put together by the Intellectual Property Owners Association.
Much of our discussion on Asian auto innovations have focused on conventional four-wheel vehicles like cars and trucks that are incredibly common. However, we were intrigued by a couple of patents issued recently to Honda which protect and disclose some alternative vehicular technologies, some developed for use on vehicles designed for indoor environments. Honda is well known for its line of motorcycles, and it has increased its patent holdings in this area with U.S. Patent No. 8869926, which is titled Fuel Supply Structure of Saddle-Ride Type Vehicle. The invention is intended to support the use of alcohol fuels in a motorcycle, where a large-size fuel filter is required to achieve the required filtration of impurities from fuel. The patent protects a fuel supply structure for supplying fuel from a tank to an injection valve utilizing fuel supply parts supported by a frame and connected by a fuel hose, where the arrangement includes a fuel filter which can be used with alcohol fuels. We were very piqued by the indoor vehicle invented by Honda and protected by U.S. Patent No. 8874319, issued under the title Inverted Pendulum Type Vehicle. The patent protects an inverted pendulum type vehicle with a first actuator driving a first travel operation unit in the direction of a rider's position on a tiltable rider mounting section. This indoor vehicle, optimized for traveling on floor surfaces, has improved stability relative to convention tiltable rider vehicles when turning or traveling at a low velocity.
Fuel cell technologies have been a part of discussions on innovation in automobiles over the past few years. Although the largest patent portfolio for fuel cell technologies in vehicles is currently held by General Motors, they are closely rivalled by Honda, who has lately added even more patents in this sector. U.S. Patent No. 8866331, entitled Power Supply Device and Power Supply System for Fuel Cell Vehicle, protects improvements to power supply systems which are designed to lower the configuration costs and reduce the system's overall size. The Honda patent protects a power supply device that includes a DC-DC converter which can alternate between at least two operating modes through the use of a control device. This new configuration saves space over conventional power supply systems in fuel cell vehicles by reducing the number of DC-DC converters used relative to the number of power supply devices. Toyota has it's own fuel cell technologies in development and has recently been able to obtain protection rights over some of their innovations in this field, as is evidenced by U.S. Patent No. 8865365, issued under the title Connector and Fuel Cell. This patent protects a connector used in a connector joint structure for fuel cell stacks and an engagement element for restricting the motion of a connector while attached to a connector joint structure. This innovation reduces bad connections or fuel cell damage while connecting a connector, used to detect fuel cell voltage, to a fuel cell.
Finally, we'll close our look at inventions from the major Asian auto manufacturers with a look at some systems which are meant to provide drivers with effective safety warnings in response to the operation of their vehicle. A safety feature which may help prevent collisions in Nissan automobiles is discussed within U.S. Patent No. 8847787, which is titled Vehicle Intersection Warning System and Method. This patent, assigned to subsidiary Nissan North America of Franklin, TN, protects a vehicle intersection warning method that involves the determination of a road intersection based on data about the host vehicle and a remote vehicle in a way that can predict a possible collision. This system is intended to create and issue warnings to drivers so that they can avoid a potential collision quickly by taking an appropriate action.
Read the article HERE | SOURCE: IPWatchdog