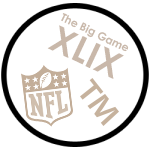 It is the game that must not be named — at least not without permission. For most people, the game on Sunday between the New England Patriots and Seattle Seahawks is the Super Bowl. But for many business owners, it's simply the "big game" or "game day." [SOURCE: Dispatch.com]

ROSS D. FRANKLIN | ASSOCIATED PRESS
Radio hosts are tripping over their tongues, and airport signs are carefully worded to keep from referring to it as the Super Bowl, a trademarked name the NFL strictly polices. Mom-and-pop shops and large companies hoping to cash in on the game — but also don't want to run afoul of league attorneys — have found ways to color inside the lines.
Tyler Ellis, whose Coney Island Grill is located within the downtown Super Bowl Central village, is selling souvenir tie-dye shirts. The garments say "Coney Island 2015" as well as "the big game." The $15 shirts come in pink, red, blue and green.
Fortunately, the restaurant owner was fully aware of the league's reputation for coming down on trademark infringers.
"I'm just an NFL follower. You can't even YouTube their videos. They're just strict with their licensing," Ellis said.
Grocery chain Whole Foods has avoided using "Super Bowl" on in-store signs and social media. The Facebook page for the central Phoenix location offers recipe ideas for "your Big Game party."
Signs at American Airlines ticket counters in Phoenix Sky Harbor International Airport greet travelers with "Welcome to the big game." American Airlines spokesman Casey Norton said though it is the official airline for the Arizona Super Bowl Host Committee, the company isn't an NFL partner.
"Like any brand, we work to protect our valuable intellectual property and the rights we extend to our partners," NFL spokesman Brian McCarthy said.
What constitutes a violation is determined on a case-by case basis, McCarthy said. For example, a restaurant writing up a Super Bowl menu on a chalkboard wouldn't be an issue. And according to trademark law, a fair-use exception allows for news organizations to use the Super Bowl moniker.
McCarthy said if a potential infringement is discovered, the league will notify the party involved. If nothing changes, then a cease-and-desist letter follows. McCarthy declined to discuss how many companies have received letters in recent months.
One of the participants in the Super Bowl is not a stranger to trademark disputes. Texas A&M University has long held the trademark for the term "12th Man," the nickname for the Seahawks' large and vocal fan base. The Seahawks and university reached a settlement in 2006 that allows the team to use some versions of the phrase.
And the NFL is not the only sports organization to be vigilant about its brand. Congress has created protections for the U.S. Olympic Committee so it has exclusive rights to use "Olympics" and the interlocking rings logo. International soccer governing body FIFA is requiring countries that host the World Cup to create special rights in their constitutions to protect advertisers, said Jeff Greenbaum, a New York-based advertising lawyer with the firm Frankfurt Kurnit.
Roger N. Behle Jr., an intellectual property lawyer with the firm Foley Bezek Behle & Curtis, said the NFL's monitoring is about maximizing revenue.
"They do have a right to police it. They spent a lot of money to build the brand up, make it profitable and not have any Tom, Dick and Harry use the marks," said Behle, who has worked on licensing deals with the NFL and other major sports leagues.
Greenbaum said the NFL's enforcement is also about protecting its sponsors. The league creates "official" beers, chips, sodas and other items, which can give a business a distinct advantage over its competitors.
"The strategy that they're employing is to create enough concern among marketers that they're afraid to even get close to the line," Greenbaum said.
---
Read article HERE | SOURCE: The Columbus Dispatch