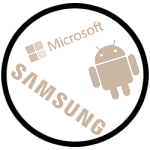 Microsoft and Samsung have settled their contract dispute over Android patent-licensing, according to a brief statement issued by Microsoft on February 9. [Source: ZDNet]

Microsoft officials declined to qualify or comment in any way on the settlement terms.
Microsoft filed an Android patent-royalty suit againts Samsung on August 1, 2014. Microsoft claimed there was a breach of contract by Samsung involving Android patent royalties, following reported "months" of attempts between the two companies to resolve their issues.
The contract in question was the September 2011 multi-year IP agreement Samsung signed with Microsoft via which Samsung has been paying Microsoft per-device royalties for its Android phones. Under that 2011 agreement, Samsung and Microsoft agreed to cross-license their intellectual property, with Samsung paying Microsoft an undisclosed amount for each Android-based phone and tablet it sold.
In October 2014, it came to light (thanks to an unsealed court filing) that Samsung paid Microsoft $1 billion in 2013 for a single year's worth of patent-licensing royalties.
Samsung claimed the Microsoft Nokia handset acquisition breached the business collaboration part of the agreement between the two companies.
Samsung is one of about two dozen companies selling Android, Chrome OS and/or Linux devices that are paying patent-royalty licensing fees to Microsoft.
---
Read article HERE | SOURCE: ZDNet