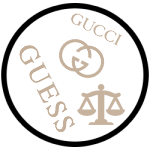 Feb 2 (Reuters) – A French court has ruled in favour of Guess? Inc in the latest episode of a trademark dispute pitting the Californian fashion brand against Italian luxury label Gucci.

Gucci, owned by French luxury goods group Kering SA , had accused Guess of selling products such as wallets and belts which copied or mimicked its own designs.
The Court of Paris rejected Gucci's claims, finding no trademark infringement or unfair competition, Los Angeles-based Guess said in a statement on Monday.
The Court threw out Gucci's request for 55 million euros ($62 million) in damages and instead ordered it to pay Guess 30,000 euros, the U.S. apparel retailer said.
Gucci said in a note it strongly disagreed with the decision and planned to appeal. It has instituted similar actions in the United States and in Italy.
In 2012 a New York court ruled that Gucci could recover $4.66 million in its lawsuit accusing Guess of copying its trademarked designs, a small fraction of the more than $120 million sought by the Tuscan brand.
In September last year a Milan appeals court accepted part of Gucci's claims, partially overturning a lower court's ruling. ($1 = 0.8825 euros) (Reporting by Valentina Za; Editing by David Holmes)
---
Read article HERE | SOURCE: Reuters