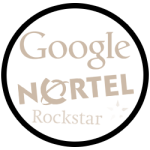 The high-profile patent lawsuit between Google and the "Rockstar Consortium" is drawing to a close. Google has signed a "term sheet" with Rockstar, which will be finalized as a settlement in the coming weeks.
Source: https://arstechnica.com/tech-policy/2014/11/google-and-rockstar-settle-patent-dispute/

The lawsuit has been closely watched, especially because Rockstar is owned by some of Google's chief rivals in the smartphone industry: Apple, Microsoft, Blackberry, Ericsson, and Sony. The Rockstar group was created in 2011, and it bid $4.5 billion for the large patent portfolio of Canada-based Nortel, which went bankrupt in 2009.
None of the terms of the Google-Rockstar settlement have been made public so far. The news comes days after it became public that Cisco expects to take a $188 million charge to settle its own patent dispute with Rockstar, which sought royalties from at least a dozen Cisco customers.
Rockstar's lawsuit against Google was filed in October 2013. Motions filed in the Texas case indicate it was moving through the discovery process, even though earlier there had been a great deal of fighting over venue.
A court document (PDF) filed Monday revealed that Google and Rockstar had settled, "in principle, all matters in controversy between the parties," and the two sides signed a term sheet. It isn't clear if the deal will also resolve Rockstar's allegations of infringement against Google's Android partners who got sued, including Samsung and HTC.
A Google spokesman declined to comment.

Read article HERE | SOURCE: ArsTechnica
"Google and Rockstar wind down their year-long patent war" by Joe Mullin