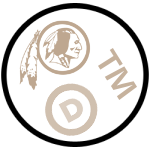 Rep. Mike Honda (D-Calif.) has introduced legislation to force the Washington Redskins football team to change its name.
Honda's bill would prohibit the U.S. Patent and Trademark Office from issuing new trademarks using the term "redskins" as a reference to Native Americans, as well as retroactively eliminate existing trademarks. [Source: The Hill]


Honda said his measure would prevent implicit government acceptance of a term that many Native Americans find offensive.
"It is unbelievable to me that, in the 21st century, a prominent NFL franchise is calling itself by a racial slur," Honda said in a statement. "Team names should not be offensive to anyone. Allowing trademark protection of this word is akin to the government approving its use."
Native American advocacy groups including the National Congress of American Indians and the National Indian Education Association have endorsed Honda's bill.
The Redskins and Native Americans pushing to change the team's name are currently at odds in a federal lawsuit. The U.S. Patent and Trademark Office's appeal board ruled last year that the team's name and logo violate a provision of law barring trademarks that are disparaging to people. The Justice Department announced last month that it would join the lawsuit on the side of the Native Americans.
Redskins owner Dan Snyder has vowed never to change the team's name and says the term is not pejorative.
---
Read article HERE | SOURCE: The Hill