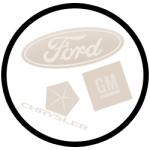 The American auto industry is anchored by a trio of Michigan-based corporations known within the industry as the Big Three: General Motors Company (NYSE: GM) of Detroit, Ford Motor Company (NYSE: F) of Dearborn and Chrysler Group LLC of Auburn Hills. These manufacturers have seen some positive developments in their sales departments recently, having all posted gains in sales of cars and trucks this September.
Source: https://www.ipwatchdog.com/2014/11/11/big-three-auto-patents-collision-safety-to-in-vehicle-text-messaging-systems/
In October, Chrysler also returned to public trading in the U.S. for the first time in seven years when shares of Fiat Chrysler began trading on the New York Stock Exchange. Some industry commentators have wondered whether sales levels are sustainable given historical trends and major credit expansion for auto loans.
The U.S. Patent and Trademark Office has published dozens of patent applications in recent weeks which have been filed by these companies. Digital communications systems, including cloud-based methods of presenting technical manual information to car owners, are featured in a number of these patent applications. A trio of Ford patent applications discuss technologies for identifying occupants and drivers in a vehicle. Other patent applications that we discuss today feature collision safety systems, including one system for establishing voice communications with vehicle occupants after an accident.
The patent portfolios of all of the Big Three automakers have increased in recent weeks and many of these new additions protect improvements to hybrid electric vehicles; some innovations in this field are discussed below. In-vehicle text messaging systems are the focus of a few other patents that we explored today. We also were piqued by a patent protecting a system of contacting persons via a vehicle telematics units to resolve missing persons cases.
The Big Three's Patent Applications: Road Trip Communications, Occupant Identification Systems and Collision Safety
Manufacturing in America has seen some dark days in the past few decades, but auto manufacturing is currently a bright spot for the American economy. Auto manufacturing is the largest manufacturing sector in the United States and it currently makes up about three percent of the country's GDP. American auto exports since 2009 have totaled more than $563 billion, the greatest value of exports for any industry. Most of the current operations in America's car manufacturing sector is consolidated in the Big Three of Ford, General Motors and Chrysler, which employ two out of every three American auto workers and operate two out of every three assembly plants in the U.S.
Vehicular systems that support digital communications to and from vehicles were featured in a bunch of patent applications that we decided to share with our readers today. Drivers on a road trip involving groups travelling in more than two vehicles may benefit from the technology described within U.S. Patent Application No. 20140302774, entitled Methods Systems and Apparatus for Sharing Information Among a Group of Vehicles. This General Motors filing would protect a computer-implemented method for generating information in a processor within a vehicle, communicating that information to a group of vehicles and presenting that information through a human-machine interface. This technology is designed to enable drivers of multiple cars to communicate without having to use a cell phone, which can be distracting and isn't effective for communicating with more than one driver at a time. Cloud-based techniques for presenting technical manual information to vehicle owners is another GM innovation, this one laid out within U.S. Patent Application No. 20140279019, filed under the title Electronic Glovebox for a Vehicle. This patent application would protect a method of accessing a data member in a cloud server through an e-glovebox client to establish an upload-download link between the vehicle and cloud server. Aside from technical manual applications, this system could be used to access vehicle maintenance, emergency information or entertainment services. We also noticed an intriguing system for controlling home electronics from a vehicle which is disclosed by U.S. Patent Application No. 20140266635, which is titled Communicating with Residential Electrical Devices Via a Vehicle Telematics Unit. The method of communicating with residential electrical devices that would be protected involves the steps of receiving information about residential devices that can be controlled, displaying controllable features of the device within the vehicle and receiving and sending a command from a vehicle occupant to the device. The patent application, also assigned to General Motors, states that this system could be used to communicate with HVAC equipment, personal computers, indoor/outdoor lighting and a wide list of other electrical or electro-mechanical devices.
If General Motors has been recently focused on improving digital communications systems for vehicles, we noticed many innovations from Ford that focused on identifying vehicle occupants to improve their driving experience. The company has invented a system for determining whether a passenger is sitting in a vehicle, discussed within U.S. Patent Application No. 20140316660, filed under the title Seat-Integrated Occupant Presence Detector. The system of this invention involves a vehicle seat, a presence sensor embedded within the seat capable of outputting an occupant presence signal, a position controller for adjusting a vehicle seat's configuration and a wake-up sensor which detects if a vehicle door is open. Along with providing for automated seat adjustment, this system could enable climate control or entertainment systems in response to the detected presence of an occupant. Another Ford technology for detecting occupants in a vehicle is described within U.S. Patent Application No. 20140316607, which is titled Occupant Presence Detection and Identification. This technology is capable of identifying an occupant to enable customized settings for adjustable seats and other vehicular systems. The patent application discloses a system with a presence sensor which generates a presence signal and an occupant identification device that generates an occupant identification signal. Ford Global Technologies has also invented a system of identifying a driver through biometric data, as is discussed within U.S. Patent Application No. 20140313333, entitled System and Method for Imaging a Driver of a Vehicle. The patent application would protect a vehicle imaging system configured to capture an image of a scene containing a bodily feature of a driver and analyze that image to determine biometric information of the driver. The biometric data collected in this way can be used to inform airbag deployment, driver attentiveness alerts or a variety of other functions.
Our interests were also piqued by a couple of technologies designed to improve driver and passenger safety in the event of an accident. One safety innovation that improves the security of a door latch during a collision is featured within U.S. Patent Application No. 20140225386, which is titled Impact Sensitive Latch Actuation Link for Vehicle Door. The apparatus that would be protected includes a latch mechanism, an actuator, an actuator link connecting the two and a breakable retainer which can increase the axial strength of the actuator link when broken. This patent application is assigned to Chrysler Group LLC. Improved methods of engaging a vehicle's emergency systems in response to an accident are also featured in U.S. Patent Application No. 20140288727, entitled Collision Sensor, Collision Sensing System, and Method. The collision sensor that would be protected includes a processor coupled to a three-dimensional accelerometer which generates an acceleration signal that can indicate whether a collision has been experienced. This system for sensing collisions, which improves on conventional two-axis collision sensors, can initiate contact of emergency services from a vehicle telematics unit and establish voice communications with vehicle occupants in response to an accident.
Issued Patents of Note: From Electric Vehicles to In-Vehicle Text Messaging Systems 
The American auto industry generates a good deal of innovation in terms of U.S. patent grants. During 2013, General Motors led the pack with 1,621 patents, placing it 18th among all global entities seeking U.S. patents in that year. With 714 patents last year, Ford placed 56th overall among U.S. patent recipients in 2013. However, our recent survey shows that Ford has been greatly outpacing General Motors in newly issued patents, at least over the course of the past few months. Even Chrysler, which didn't place among the Intellectual Property Owners Association's list of the Top 300 organizations receiving U.S. patents for 2013, has added many more patents to its portfolio than GM in recent weeks.
Electric and electric hybrid vehicles were an area of development that we noticed among multiple members of the Big Three group of American auto manufacturers. Our survey of Big Three innovation protected by patents recently issued by the USPTO showed us that Ford has made the most gains in this area over the past few months. U.S. Patent No. 8851861, which is titled Powertrain Hydraulic System for Hybrid Electric Vehicles, describes a hybrid electric powertrain that can be employed with a variety of transmissions and engines, and therefore utilized in a wide range of hybrid electric vehicles. The patent protects a vehicle hydraulic system that contains a clutch module, a transmission with a first sump and a pump for supplying fluid from the first sump to a second sump. This technology is designed to ensure the reliable supply of fluid to the transmission of a hybrid electric vehicle when the engine is off and the vehicle is parked on a slope. Ford has also invented improvements to methods of charging electric vehicles, which we saw in U.S. Patent No. 8863870, entitled Method and System to Prevent Vehicle Driveaway During Battery Charging. The method protected by this patent prevents a mechanical restraint, such as a parking brake, from being released while an external power supply cord is plugged into the vehicle's receptacle. The prevention of motor operation while charging is a technology that is already known, but this invention prevents movement due to gravity or a second propulsion force. Although not necessarily related to a hybrid electric vehicle, we were intrigued by the electrical system disclosed by U.S. Patent No. 8857883, titled Electrical Circuit with Passive Wiring Connector for Electrical Device Mounted on Vehicle Window. The patent protects a vehicle capable of supporting an electrical line and a window member with a transparent plate; the transparent plate includes a grid with a plurality of resistive wires that can be charged through a terminal. The system of this invention could be used to power a window defogger, a light bulb or other electrical devices mounted onto a window.
The use of text messaging in vehicles has been pretty controversial, which is why we were intrigued to learn of a few patents issued to Big Three companies that are directed at text messaging systems within vehicles. U.S. Patent No. 8787949, entitled Method for Controlling a Mobile Communications Device While Located in a Mobile Vehicle, discusses techniques for receiving text messages through a vehicle's telematics unit. The patent is assigned to General Motors. The method protected by the patent involves pairing a mobile communication device with a telematics unit through a short range wireless network for implementing a text messaging management strategy. Other improvements to text messaging functions in vehicle communications systems have been protected by the Chrysler Group through U.S. Patent No. 8862462, issued under the title Dynamic Method for Emoticon Translation. The patent protects a vehicle communication system with an in-vehicle communication device and a controller configured to translate a character string into a face description if the string includes an emoticon. This addresses shortcomings in vehicle communication systems which present text messages audibly to a vehicle occupant by displaying a face description on a display screen in response to an emoticon.
We'll close our examination of the patents recently issued to the Big Three U.S. auto manufacturers with a look at some technologies aimed at creating a more satisfying driving experience. Techniques for providing computer services to drivers within a vehicle are the focus of U.S. Patent No. 8866604, which is titled System and Method for a Human Machine Interface. This patent, assigned to Ford, protects a vehicle computer system with a wireless transceiver which can establish a connection with a nomad device for outputting a human machine interface in a web browser format. The system could support natural language search queries through voice inputs and collect music, video and other data from an offboard server. The use of vehicle telematics systems to aid in missing persons cases could be a reality with the technology protected by U.S. Patent No. 8750943, issued under the title Vehicle Telematics Communication for Well-Being Checks. The patent protects a method of attempting contact with a person through a vehicle telematics unit that involves receiving a request for a well-being check of a person at a call center, placing a call to a vehicle telematics unit associated with the person and prompting a vehicle occupant to return the call if it goes unanswered.
__________________________
Read full article HERE | SOURCE: IPWatchdog